If you find yourself looking for a variety of ways to dish up some of that elk you have in your freezer, here are 12 Elk Recipes for Hunting Season.
Click here for an entire list of elk recipes.
You will always impress your family with a perfectly cooked Elk Wellington! Make this recipe using a slice of elk backstrap, mushrooms and prosciutto wrapped in puff pastry and cooked to golden perfection. Top each slice before serving with a dollop of onion bourbon marmalade for an added bonus to every bite.
The complex combination of the rich chocolate roux, vegetables, sausage, seasonings and tender elk will satisfy any cravings for comfort food.This recipe might not be a 'classic' gumbo recipe since I don't use okra but that doesn't mean that you can't add it to this mouthwatering stew.
I was inspired by a dish referred to as a Braciola. It sounds fancy, but in reality it's simply thinly sliced meat that's stuffed, rolled, tied and then lightly fried. Once that process is completed, it's then placed in a sauce to finish cooking.
This elk tenderloin was seared to perfection and then finished with a simple pan sauce. I trussed the tenderloin with butchers twine to retain the overall shape and thickness for even cooking. This isn't a requirement, but if your tenderloin does taper off at the ends, it does help to tuck them in and tie them up.
Transform any traditional elk steak dinner into a gourmet weeknight dish with this easy to make flavorful Dijon mustard pan sauce. The sauce uses simple ingredients that take no time at all to prepare.
Serve the sauce over tender sliced elk and a side of rosemary infused roasted vegetables.
Grilled elk sirloin with chimichurri sauce is a very satisfying main dish to serve up anytime during the week. If you don't have sirloin to grill up, don't worry. This colorful and fragrant sauce will enhance any cut of grilled meat and the sauce tastes just as flavorful when you serve it over venison, antelope, bison or bighorn sheep.
This is a modern version of osso buco using 2 to 3 inch thick cross cut elk shanks in flavorful braised medley of onions, bell peppers, red wine, beef broth and tomatoes.
Fajita seasoning isn't just for making fajitas, it's also a perfect rub for grilling skewered chunks of wild game meat over a hot grill. These flavorful elk venison rubbed skewers make a simple and easy dinner recipe for any night of the week!
This elk burger soup is so simple to make and uses even simpler ingredients. I'm always looking to create easy dinners with wild game without losing the flavor and this soup does exactly that. It's quick to make and even better when eaten!
My version of elk chili uses ground elk meat and plenty of it. It also incorporates common ingredients like onions, garlic, diced tomatoes, broth and red wine. The blend of seasonings adds a complex chili flavor combining mildly-hot, sweet and fruity elements to each bite.
This recipe is similar to how we used to prepare our prime rib for Christmas dinner. It was always a show stopper so I figured why not do the same thing with a beautiful elk roast. The butter blend is packed full of flavors that include parsley, oregano, rosemary, garlic, salt and pepper. If you don't have dried minced garlic simply substitute with a minced clove of garlic. Keep an eye on the roast while it's baking and be sure to remove it from the oven when the internal temperature hits 140 degrees.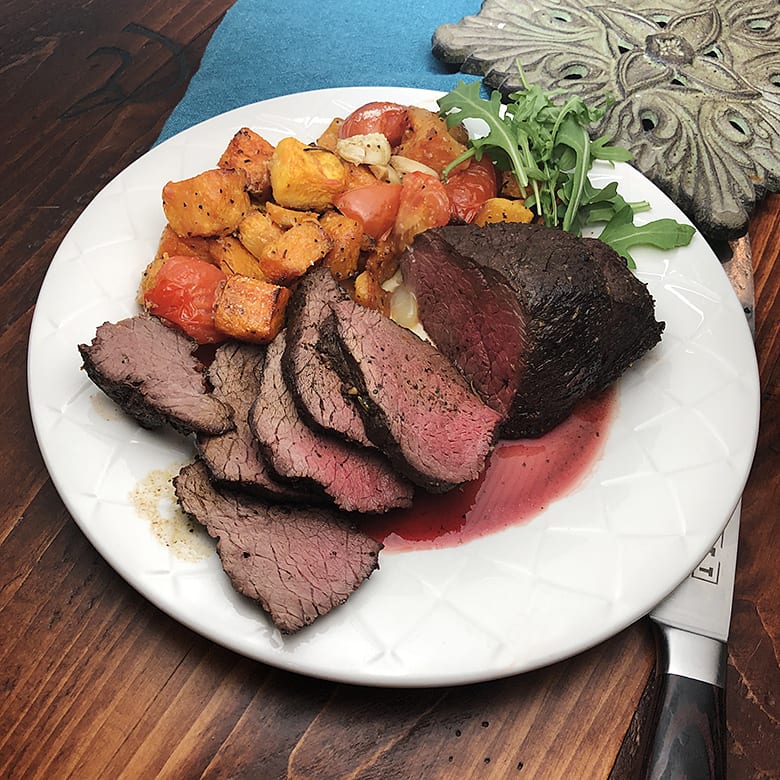 I like to think of my version of this Bourguignon or Burgundy as an expansion to the culinary French cuisine that seems to be fit for a King or Queen. Since I prefer to use elk meat in place of beef, I also prefer to use combination of liquids including red wine, beef broth and brandy which adds a subtle hint of sweetness to an already rich and full-bodied dish.
Serve this Elk Burgundy to family and friends over mashed potatoes or all on its own with sliced French bread. Garnish with a few chopped green onions.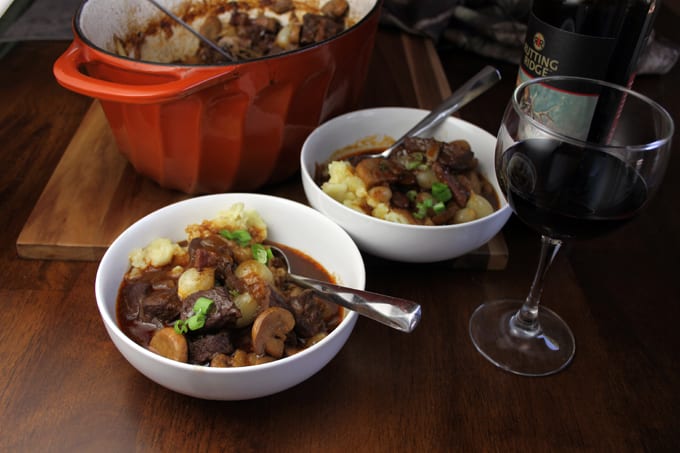 Looking for more Elk Recipes?
Click here to find more.