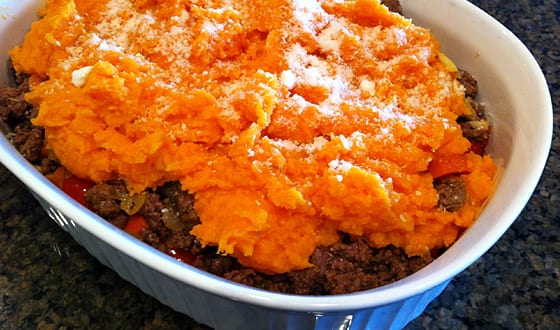 I'm always looking for easy to prepare wild game recipes to cook up using staples in the pantry and avoiding having to make a special trip to the grocery store… And it just so happened that I had all key ingredients that allowed me to create a flavorful and hearty Crustless Antelope Shepherds Pie topped with Sweet Potatoes.
INGREDIENTS
1 ½ pounds ground antelope
3 large sweet yams or sweet potatoes
8 tablespoons butter or 1 stick
1 cup shredded cheddar cheese
5 carrots, diced
1 cup cherry tomatoes
1 onion, finely chopped
2 cloves garlic, minced
1 teaspoon dried rosemary
1 teaspoon garlic powder
½ teaspoon chipotle pepper from adobo sauce, chopped
½ cup Parmesan cheese
Brown gravy
DIRECTIONS
Pre-heat oven to 375 degrees.
Peel potatoes cube and boil until soft. Mash potatoes and add 6 tablespoons of butter. Stir until blended and set aside.
Cook ground antelope in heavy skillet until done. Remove antelope from pan and place in bowl.
Add remaining 2 tablespoons of butter to skillet. Add garlic, onions, tomatoes and carrots. Cook until all vegetables are fork tender. Season with dried rosemary, garlic powder and chipotle pepper. Remove from heat.
Add antelope mixture to a casserole baking dish and top with mashed potatoes and then top off with Parmesan cheese. Cover loosely with aluminum foil and bake for 45 minutes. Remove aluminum foil for the last 10 minutes to brown top.