This Asian inspired stir-fry dish is another one of our favorite Canada Goose recipes to serve up for the family or a special occasion. Be sure to garnish with roasted cashews, fresh mint, green onion and a few sliced green chilies.
Serves 4-6
Canada Goose Marinade
Take 4 breasts and chop into 1/2 inch to 1/4 inch cubes. Marinade meat for 24 hours.
1 cup Teriyaki Sauce
2 teaspoons fresh grated ginger
1 small green chili sliced thin
2 garlic cloves sliced thin
1 green onion chopped
1 teaspoon garlic powder
Ingredients
4 goose breasts
1-2 cups raw unsalted cashews
8oz pineapple chunks
2 tablespoons chopped mint (extra for garnish)
1 green chili sliced thin (optional)
2 teaspoons fresh ginger
1 white onion diced
3 green onions finely chopped
1 small red bell pepper finely chopped
2 cups Bok Choy chopped
8oz sliced water chestnuts
2 garlic cloves finely chopped
salt and pepper (optional)
2 tablespoons of oil
2-3 cups cooked short grain rice
Directions
Cook rice as directed on package.
Heat a skillet over medium heat and add raw cashews. Roast the cashews in skillet until browned. Be careful not to burn. Remove and set aside when done.
Heat large skillet over medium-high heat. Add a tablespoon of oil and cook marinated breast meat until browned. Remove and set aside.
Add remainder of oil to pan and cook onions, garlic and bell pepper for about 3 minutes. Stir in pineapple, water chestnuts, ginger, mint and Bok Choy. Continue cooking for another 4-5 minutes.
Gently add the goose meat to the vegetables and stir together. Season with salt and pepper if needed.
In a large serving bowl or platter add the cooked rice. Top the rice with the goose stir-fry and garnish with roasted cashews, fresh mint leaves, chopped green onion and sliced green chilies.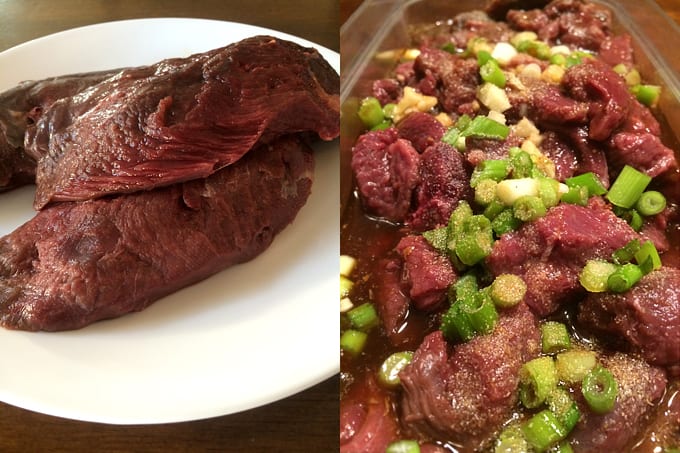 Yum