You can do a lot with an elk roast besides baking it or slow cooking it whole. Here are my top 8 Elk Roast Recipes that just might inspire you to take a different direction when serving up your next elk dinner.
My Swiss Elk steak recipe uses a lean cut from the hindquarter which is then cut into ½ inch steaks, tenderized, covered in seasoned breadcrumbs and quickly fried until golden brown. Then I prepare a broth based gravy that includes onions, mushrooms and hints of fresh thyme. Soon after the gravy begins to thicken, I set the steaks back in the gravy and simmer over low heat until each individual steak is fork tender.
Now my version of this entrée is similar to what you might find on the menu in your favorite restaurant but instead uses a delicious medley of sliced elk dredged in seasoned breadcrumbs lightly fried until golden brown, then set in a tomato sauce with each cutlet topped with a slice of fresh mozzarella cheese. And to make the dish even more substantial, I like to add a few spoonfuls of ricotta cheese to the sauce and then bake.
You'll end up with an enticing combination of tender breaded elk, warm tomato sauce and gooey melted cheese that's a perfect combination to serve over cooked pasta or wilted spinach.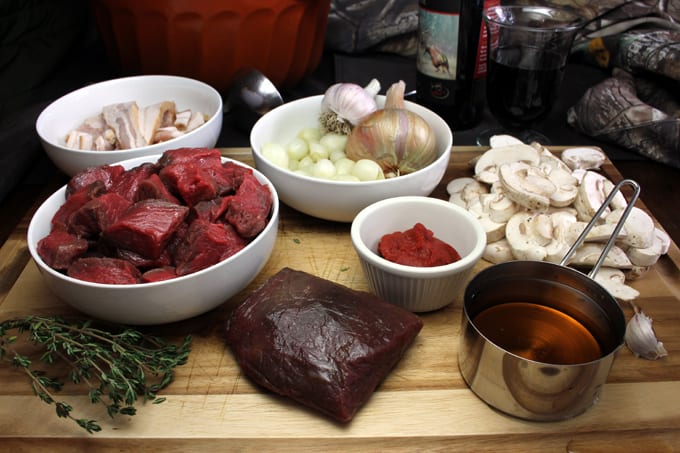 I like to think of my version of this Bourguignon or Burgundy as an expansion to the culinary French cuisine that seems to be fit for a King or Queen. Since I prefer to use elk meat in place of beef, I also prefer to use combination of liquids including red wine, beef broth and brandy which adds a subtle hint of sweetness to an already rich and full-bodied dish.
Serve this Elk Burgundy to family and friends over mashed potatoes or all on its own with sliced French bread. Garnish with a few chopped green onions.
I love seasonal cooking especially when we have a bumper crop in the garden. It's really rewarding to be able to prepare a meal that we harvested in the field and combine ingredients from the harvest in the garden. The older I become, the more important it is to me to know where my food is coming from and how well it was taken care of. I know not everyone has the time or space for a garden, but if you do, you'll find every meal that you create for dinner always seems to taste so much better.
Of course, if you don't have elk on hand, substitute with venison or antelope stew meat. It's killer good!
A classic Greek Gyro is made from pieces of meat stacked on a vertical rotisserie and slowly cooked using indirect heat. Once the meat exterior is crispy, pieces are then shaven off and used to fill flatbreads folded up with other accompanying ingredients such as potato fries, fresh onions, crispy cucumbers, tomatoes and a yogurt sauce called Tzatziki.
Now my version of the Gyro has just a few simple modifications from the classic style. See traditionally the hand-held sandwiches are filled with slow roasted pork, chicken, beef, veal or lamb, but game meat, such as Elk, makes for a perfect protein substitute.
I'm a firm believer in color and fragrance when cooking in the kitchen, and if I had to make a list of my top five hunger-inducing combos, curry would be number one.
Curry dishes have their roots in southern India, originating hundreds—and some argue thousands—of years ago. Originally, curry was a thin, soup-like, spiced dressing served with rice. Curry itself is a mixture of spices and herbs, such as cumin, coriander, turmeric and garlic. You can create curry dishes of poultry, fish, vegetables and, of course, wild game.
The minimal ingredients for these tender steak bites turn plain wild game meat into something really delicious and full of flavor! You can serve these steak bites as finger foods with your favorite dipping sauce or use them to top off another family favorite dish such as mashed potatoes and gravy or something as simple as spaghetti. A perfect weeknight wild game dinner idea.
I enjoy creating new dry rubs for wild game since it allows me the flexibility to experiment with a wide variety seasonings and aromatics that enhance the flavor of the meat. I also take pleasure in sharing some of these concoctions with anyone who might be interested in creating their own rubs and seasoning blends.