You can find an overwhelming assortment of green tomato recipes online but one of my favorite recipes to make is a green tomato enchilada sauce. Fresh and slightly tart, this garden grown sauce is full of flavor when paired with wild harvested meat. And the nice thing about the base of this sauce is that you can adjust the flavor by adding additional ingredients such as canned or roasted green chilies or toss in a few more jalapenos.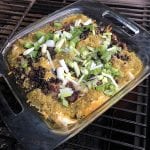 Print Recipe
Green Tomato Enchilada Sauce for Venison
Prep Time20 mins
Cook Time45 mins
Servings: 12 cups
Ingredients
12 cups green tomatoes, quartered
1 1/2 cups water
2 jalapenos, chopped
1 bunch fresh cilantro, roughly chopped
2 cloves garlic, minced
1 cup white vinegar
1/4 cup lime juice or juice from 2 limes
1/4 cup white sugar
1 tbsp ground cumin
1 tbsp ground coriander
1 tsp mexican oregano
1 tsp sea salt
Instructions
Using a blender or food processor, combine quartered tomatoes, water, jalapeno peppers, cilantro and garlic and puree until liquefied. You will need to do this in batches. When done, pour into a large saucepan over low heat. Add vinegar, lime juice, sugar, cumin, coriander, oregano and salt. Simmer for 45 minutes. Adjust seasoning if needed. Use sauce immediately and freeze remaining sauce in containers or freezer bags.
Print Recipe
Venison Enchiladas
Prep Time30 mins
Cook Time45 mins
Servings: 4
Ingredients
1 1/2 lbs venison steak, thinly sliced
2 tbsp olive oil
1 tbsp ground cumin
1 tbsp chili powder
1 tsp granulated garlic powder
1 tsp mexican oregano
1/2 tsp sea salt
4.25 oz black olives, chopped
1/4 cup fresh cilantro, chopped
2 cups shreded mexican style cheddar jack cheese, (divided)
2 cups green tomato enchilada sauce (see recipe above)
6-8 flour tortillas
2 green onions, chopped
sour cream
Instructions
Preheat oven to 375 degrees.

Slice the venison steak(s) into thin strips and add to a bowl. Season the meat with olive oil, ground cumin, chili powder, garlic powder, oregano and salt.

Heat a large skillet over medium heat. Add the seasoned venison to the skillet and cook until browned, about 5-7 minutes. Add the cilantro and half of the chopped black olives stirring everything together. Remove from heat.

Fill each flour tortilla with equal portions of the venison meat and then top off with 1/2 of the shredded cheese. Roll each tortilla up and set seam side down in a baking dish. Pour the green tomato enchilada sauce over the top and add the remaining cheese and chopped black olives.

Bake the venison enchiladas in the oven for 40-45 minutes or until bubbling hot. Garnish with chopped green onions and serve with a side of sour cream.
KITCHEN GADGETS & ACCESSORIES USED IN THIS RECIPE
Weston Sound Shield Pro Series 1.6hp Blender

Chantal Copper Fusion 10-Inch Fry Pan, Onyx

Camp Chef PRO90X Three Burner Camp Stove