It's no secret that I'm a hoarder of prized cuts of game meat, so when it comes time to dish it up, I find myself crafting up an accompanying sauce to enhance the excitement of each and every last bite.
This blackberry and blueberry steak sauce is ideal for spring and summer months especially since this is the prime growing season for the sweet edible berries. I like to add a few other ingredients to the sauce like a finely chopped shallots caramelized in butter, rosemary, balsamic vinegar, honey and red wine.
You can serve this sauce with seared or grilled venison, elk or antelope meat.

Serves: 2-4
Ingredients
1 cup blackberries, washed
1/2 cup blueberries
1 shallot, finely chopped
1 teaspoon fresh rosemary, chopped
2 tablespoons balsamic vinegar
2 tablespoons honey
1/2 cup Red Wine, Cabernet or Pinot
2 tablespoons unsalted butter, divided
Directions
Heat a stainless steel sauce pan over medium-low heat and add a tablespoon of butter. When the butter has melted and the shallots and stir until they have softened. Add the berries to the pan and continue to stir cooking for about 3-4 minutes. When the berries begin to soften, add the balsamic vinegar, honey, wine and rosemary. Continue stirring until the liquid starts to reduce, about 5 minutes. Lower the heat if needed to avoid scorching the sauce.
Remove the pan from the heat and pour the mixture through a fine mesh strainer to remove the seeds and any skins. Add the smooth sauce back to the pan and finish with the remaining butter.
Slice your steaks and drizzle the meat with the berry sauce or serve alongside.
______________________________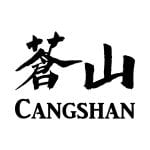 Thank you to Cangshan for my gorgeous 9-Inch Carving Knife. When you slice a lot of wild game meat, the most important characteristics of any blade is that it's comfortable in my hand and has an exceptional sharpness that holds an edge – cut after cut after cut. If you would like to learn more about Cangshan and their line of functional cutlery, please visit their informational website. They are also offering a 15% discount on eligible items for the next 3 weeks.