The combination of hominy, smokey bacon, onions, mild green chiles and seasonings make this elk green chile stew distinctively mouthwatering delicious.
If you have the patience, make this stew the night before and simply reheat it before serving the next day. You'll find that the flavor intensifies and the cubes of elk meat, no matter what cut you used, always seem to be that much more tender. I hope you give this recipe a try and as always, if you don't have elk meat substitute venison or antelope meat.
Ingredients
2 pounds elk roast, cubed
2 tablespoons canola oil + extra if needed
2 slices thick bacon, chopped
3 white onions, chopped
4 cloves garlic, minced
1 (27 ounce) can whole mild green chiles, roughly chopped
1 (30 ounce) can white hominy, drained
32 ounces beef broth
2 tablespoons ground cumin
1 tablespoon oregano
1 bay leaf
salt and pepper to taste
Directions
Preheat oven 350° F.
Heat a heavy stock pot over medium heat and add oil. Working in batches brown the cubed elk meat, remove and set aside when done. Add bacon to the pot and cook until semi-transparent and a little underdone. Carefully add the hominy and saute until lightly golden and bacon is fully cooked. Remove hominy and bacon leaving bacon grease. Add onions and garlic cooking until onions are soft and translucent, add additional oil if needed. Combine the elk, hominy, chopped green chiles and beef broth back to the pot with the onions. Add the cumin, oregano, salt, pepper and a bay leaf. Cover with a lid and bake for 3-4 hours or until the meat is tender.
Serve with warm corn tortillas and garnish with sour cream, avocado, cilantro and sliced jalapenos.
As a side note, you can also cut thin strips from flour or corn tortillas and then fry them in a small amount of oil. The crispy chips really add a nice finishing touch to each bowl full of stew.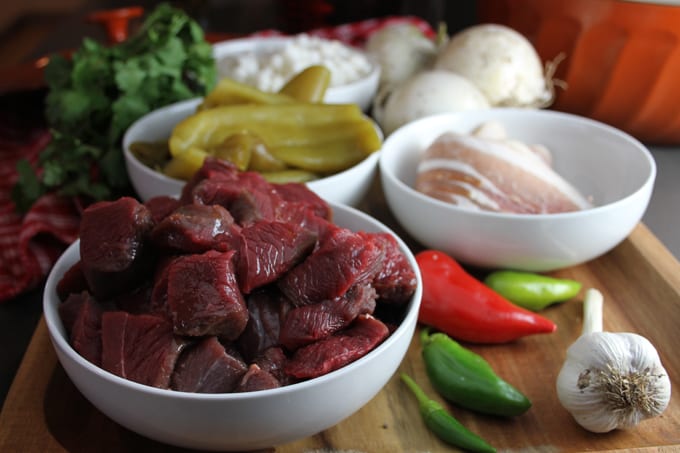 We have had great success with our self published "Wild Game Cuisine Cookbook: a collection of wild game recipes featuring elk, venison, antelope, bison and waterfowl." Featuring over 115+ wild game recipes from my personal collection. And with every cookbook purchased, each copy will be signed. Thank you again. If it wasn't for all of you and all of your support, I wouldn't have published this cookbook. ~ Kristy
If you haven't ordered your copy, be sure to let us know. Click here for how to order.