The season is here for hunting Antelope, so what can you dish up with all that meat you harvest? Here's a quick list of 10 popular pronghorn antelope recipes that may inspire you to get cooking this fall.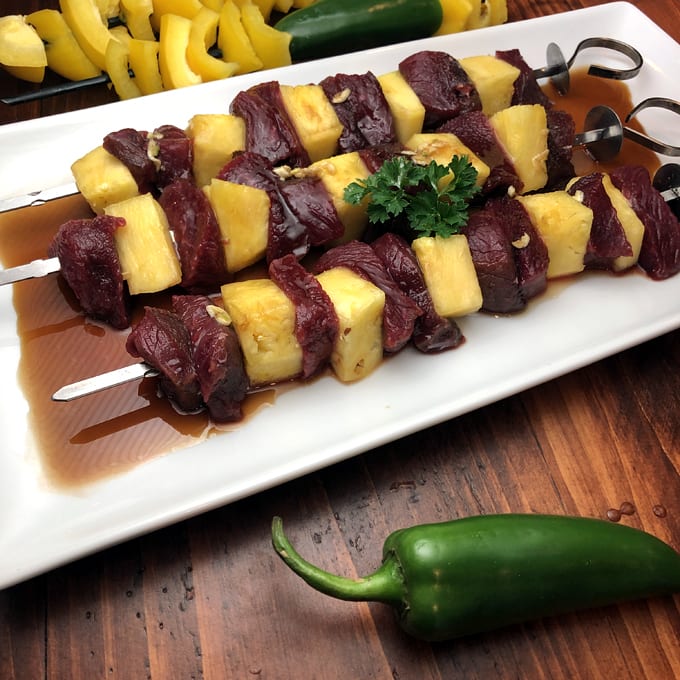 These pronghorn and pineapple kabobs are lightly marinated and then threaded together creating a perfect pairing of tender meat and juicy sweet pineapple. In this recipe, I used a yellow bell pepper and onions as the side vegetables, but you can always substitute with other fresh veges that are perfect for the grill.
With so much ground wild game in our freezer, I'm always creating new spins on classic recipes for an easy family meal. This antelope meatloaf uses a simple and basic list of ingredients that keeps the meatloaf moist and packed full of flavors such as sweet onion and melted mild cheddar cheese. Serve a slice of meatloaf with the savory sage gravy and a side of mashed potatoes.
A simple and easy recipe for wild game and root vegetable stew that is full of hearty vegetables, red wine, and tender chunks of antelope meat.
If you are lucky enough to have a harvested an antelope, then you know that this cut of meat really doesn't require a complex cooking method to be fully enjoyed. Simply sear in melted butter, slivered garlic and sage leaves. Then add a little red wine to the skillet with another tablespoon of butter and you have a rich pan sauce to spoon over the delicate cut of meat.
Antelope Meatball Stroganoff in a rich and creamy broth accompanied with mushrooms, onions and hints of garlic. Serve alone or with buttered egg noodles.
When you make these curried antelope meatballs, your kitchen is going to smell amazing. That is if you enjoy the fragrance of coriander, cumin, turmeric and garam masala. Serve the baked meatballs with these slow cooked candied carrots and a side of steamed brown or white rice.
These Mushroom Swiss Antelope Burgers with a Tarragon Mayo spread will heave everyone's mouth watering with each and every juicy bite.
Looking for another comforting wildgame recipe that will keep you warm and cozy? Try making this Antelope Chile Verde Stew with both ground and cubed meat, two types of roasted chiles and toasted seasonings. The flavorful combination will elevate every delicious bite.
This dry rub is a spicy medley of seasonings that adds a slight punch to each and every bite. If you prefer a sweet heat, you can always add 1 tablespoon of brown sugar to the blend or simply season the steaks and then drizzle a little honey over the top prior to grilling.
Scaloppine is such a simple and elegant dish that can be made with any kind of meat. The only requirement for the dish is that the meat is sliced thin so it can be cooked quickly over high heat. I prefer to dredge the cutlets in flour before cooking in a blend of oil and butter. This will give the exterior of each piece of meat a delicate golden brown crust. Remove the meat and set aside. Add the shallots and remaining butter to the skillet and cook until softened. Squeeze a lemon into the sauce and stir. Serve the cutlets over a bed of noodles, add a few olives and then drizzle the sauce over the top and enjoy!
Still looking for more recipes? You can find more pronghorn antelope recipes here.