I've compiled a list of 9 easy to make ground venison meals to dish up this fall.
Everything from enchiladas, casseroles, burgers,meat pies and more. If these 9 recipes aren't enough for you, be sure to check out all of my other mouthwatering venison meat recipes.

A quick and delicious ground venison enchilada dish that takes less than an hour to make and will have the whole family begging for more.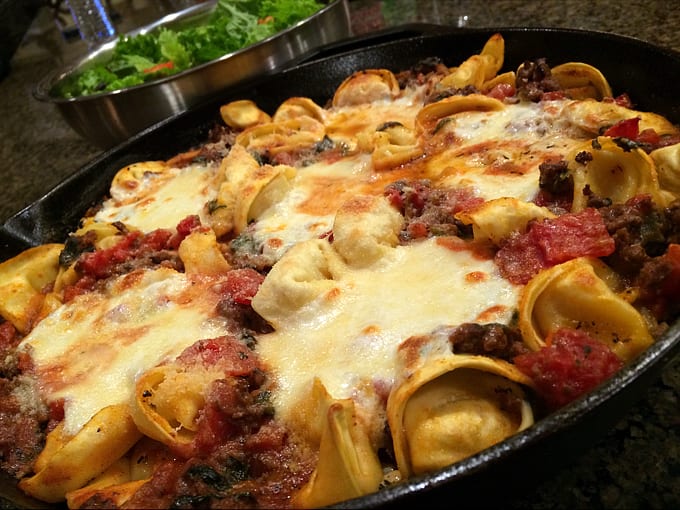 A flavorful wild game recipe that is easy to prepare and includes ground venison, cheese tortellini, petite diced tomatoes and three types of cheeses melted perfection. You can make this recipe with ground elk, bison or antelope.
Dinner doesn't always have to be complicated that's why I love to make this ground venison pasta bake for dinner. This dish uses simple everyday ingredients and takes no time at all to throw together for a family style dinner. Comfort food at its finest.
If you've got ground game in the freezer, grab a pound to a pound and a half and whip up these Venison Chile Cheeseburgers. So simple to make and in all seriousness, they are outstanding. If you don't have shallots, substitute a sweet onion and be sure to use a potato bun. The bun is what makes the burger. Potato buns tend to be soft and delicate allowing the bun to squish down and form around the meat patty and all of the goodies on top. The chiles are roasted until soft and add a bit of heat with every bite. I kept the venison patties simple to really draw out the flavors by simply seasoning with kosher salt and freshly ground black pepper.
Upgrade your next scalloped potatoes recipe by simply incorporating a few more ingredients like ground venison, sautéd onions, bell pepper and Gruyere cheese and you'll turn this traditional side dish into your next main course meal.
This Cheesy Venison Pasta dish is perfect for a feeding a hungry crowd and leaving them not just fully satisfied but begging you to have more. And not only are there three cheeses in this dish, but also a combination of intense seasonings that add to the overall flavor of each and every bite.
Celebrate your harvest with this flavorful and hearty Baked Venison Meat Pie.
These medium sized bell peppers are stuffed with deliciously seasoned ground venison, quinoa and a special sauce that I have enjoyed using instead of the traditional tomato sauce – El Pato Jalapeno Sauce. If you don't have this highly addictive can on hand, you can always substitute with tomato sauce.